Handmade on a Mission
Elise Marie Designs inspires with uniquely hand-crafted designs and a marketplace of local goods. We strive to empower customers to look and feel their best while also supporting female-owned small businesses.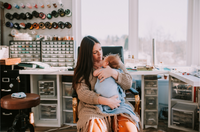 Eco-Friendly Commitment
Here at EMD, we are mindful of our impact on the environment. With Mother Nature at the forefront, we are commited to preserving our evironment for future generations by reusing our packaging material, recyclable promotional materials, using only eco friendly laundry detergent, and line drying our apparel to save energy. All of these changes are implemented in hopes we can make an impact in the conservation of our earth and home.
EMD Magic On Location
This is where the EMD magic happens- this custom built and designed studio was a dream in Spring 2020 and a reality soon after! Built by Elise's husband, Curtis with design elements from Elise- this studio encompasses a mix of their styles, drive and inspiration for dreaming big. The studio is open for shopping appts and meetings. Follow us in socials to find up to date days and hours!
Read our customer reviews!